Preparing to welcome a new member to the family? Finding the perfect gift to celebrate the birth of a baby can be challenging, particularly when it comes to clothing that may not fit right away. However, a gift that never fails to impress is a stunning bouquet of flowers. Not only are they visually [...]
Add To Cart
Add 8 Balloons for $42.95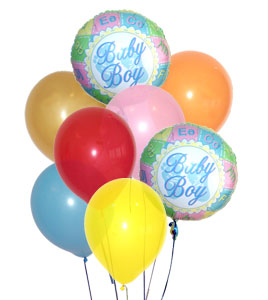 Preparing to welcome a new member to the family? Finding the perfect gift to celebrate the birth of a baby can be challenging, particularly when it comes to clothing that may not fit right away. However, a gift that never fails to impress is a stunning bouquet of flowers. Not only are they visually [...]
Preparing to welcome a new member to the family? Finding the perfect gift to celebrate the birth of a baby can be challenging, particularly when it comes to clothing that may not fit right away. However, a gift that never fails to impress is a stunning bouquet of flowers. Not only are they visually [...]
Preparing to welcome a new member to the family? Finding the perfect gift to celebrate the birth of a baby can be challenging, particularly when it comes to clothing that may not fit right away. However, a gift that never fails to impress is a stunning bouquet of flowers. Not only are they visually appealing and fragrant, but they are also sure to be appreciated by any new parent.

If you're commemorating the arrival of a baby girl, the Girls are Great! bouquet is an excellent option. This premium arrangement includes freshly picked pink carnations, white roses, pink matsumoto asters, white Peruvian lilies, and pink Asiatic lilies. Additionally, the bouquet comes with a charming wooden basket and an It is a Girl! balloon attached.

The Girls are Great! bouquet is not only visually stunning but also carries a heartfelt message. Pink carnations symbolize a mother's eternal love and are associated with the Virgin Mary. White roses represent new beginnings, pink lilies signify encouragement, and white lilies represent purity. Lastly, the matsumoto asters symbolize enchantment.

This handmade bouquet is available for same-day delivery throughout the United States. However, because it requires additional attention and effort, orders need to be placed before 1:00 PM local time to ensure timely delivery. We also provide hospital delivery services nationwide, and you may book in advance for your convenience.
Item No. D7-4904
Price: $74.95